A 13-week message series in the book of 1 John
Preview - Sunday, February 24

This is our series half-time Sunday where we'll we'll have a Q & A session to address your questions from the 1 John series. That Sunday, you can also sign-up to join the new 6-week D-groups which will launch the following Sunday, March 3. In addition to celebrating communion together, we will also offer elder prayer after the service on both campuses.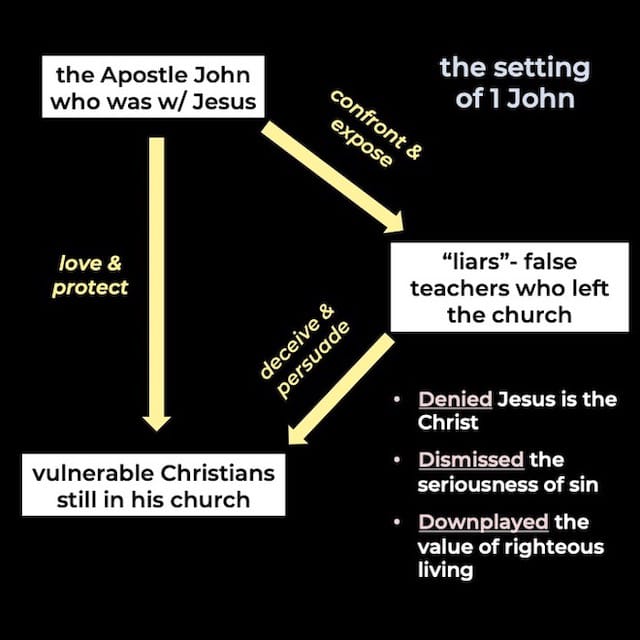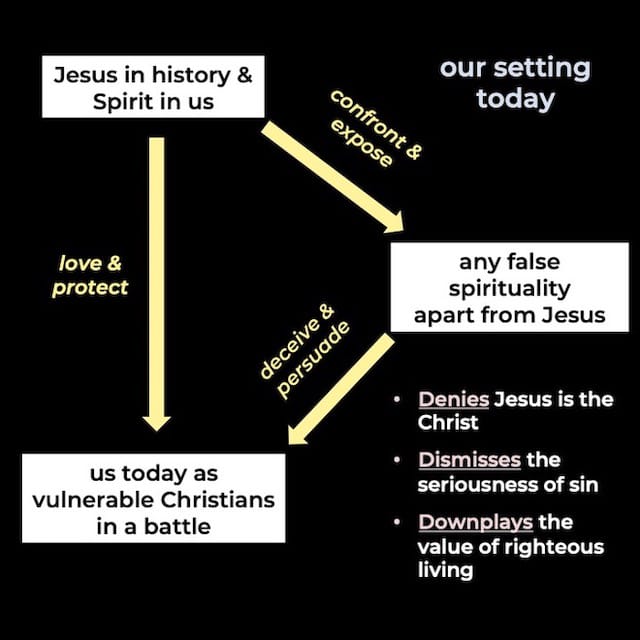 1 John 2:28-29 NIV
28 And now, dear children, continue in him, so that when he appears we may be confident and unashamed before him at his coming. 29 If you know that he is righteous, you know that everyone who does what is right has been born of him.
Beliefs AND Behaviors

Like all the other writers of the New Testament, the Apostle John is quick to link together our beliefs with our behaviors. Because God is righteous and because we as Christians are born of Him, we are going to act just like our Heavenly Father... or at least we should.
1 John 3:4-6 NIV
4 Everyone who sins breaks the law; in fact, sin is lawlessness. 5 But you know that he appeared so that he might take away our sins. And in him is no sin. 6 No one who lives in him keeps on sinning. No one who continues to sin has either seen him or known him.
The Danger of Indifference toward Sin

This passage can be a tricky one to read because every Christian still sins, even the most godly among us. So if we still sin, does that mean we don't know God? No, that's not what these verses mean. John is not teaching a "one strike and you're out with God" mentality. Rather, he's confronting blatant patterns of sin and flippant attitudes toward sin. So John's not calling out our imperfection, but rather he is challenging our indifference. When we truly live in Christ, we can't act like our sin doesn't matter, because it does.

1 John 3:7-10 NIV
7 Dear children, do not let anyone lead you astray. The one who does what is right is righteous, just as he is righteous. 8 The one who does what is sinful is of the devil, because the devil has been sinning from the beginning. The reason the Son of God appeared was to destroy the devil's work. 9 No one who is born of God will continue to sin, because God's seed remains in them; they cannot go on sinning, because they have been born of God. 10 This is how we know who the children of God are and who the children of the devil are: Anyone who does not do what is right is not God's child, nor is anyone who does not love their brother and sister.

What motivates us to be good?

Many of us are strive to be good people and do the right thing with an "or else!" motivation. "I better be kind to others.... or else!"; "I better keep my promises... or else!"; "I better be honest on my taxes... or else!"

And the "or else!" that haunts us can be anything like:
"... or else God will be mad at me."
"... or else God won't bless me."
"... or else God won't forgive me."

Now an "or else!" motivation isn't bad, but it also isn't best. It's o.k. to have a fear of negative consequences, but we need more than that to grow as people who "do good" and "love well." We will never have confidence if "or else!" is our main motivation to live righteously.
Motivation for Lasting Confidence

Looks back in ASSURANCE
FAITH that Jesus died & rose again for me

Looks ahead in ANTICIPATION
HOPE that Jesus is coming again for me

To look back in ASSURANCE means that my confidence no longer lies in my performance, but rather my confidence rests in His perfection.

To look ahead in ANTICIPATION means that my motivation to live righteously changes from "I have to" to "I want to." Because Jesus is returning as the King of Kings to finish what He started, I can be confident that the best is yet to come.

1 John 3:1-3 NIV
1 See what great love the Father has lavished on us, that we should be called children of God! And that is what we are! The reason the world does not know us is that it did not know him. 2 Dear friends, now we are children of God, and what we will be has not yet been made known. But we know that when Christ appears, we shall be like him, for we shall see him as he is. 3 All who have this hope in him purify themselves, just as he is pure.
1 John series start page
Check out this link for more information about our 1 John series Discussion Groups. We have a new round of 6-week D-Groups starting the week of March 3.
You can also access the electronic version of our 1 John journal here.