A 13-week message series in the book of 1 John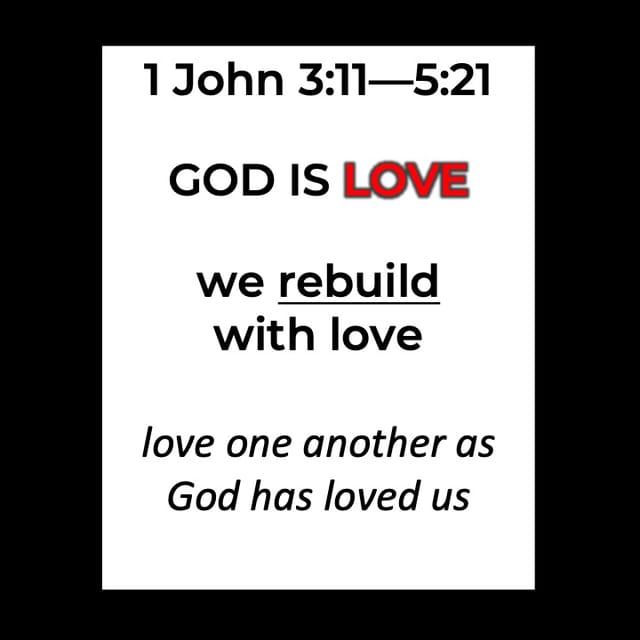 Reviewing the First Half of 1 John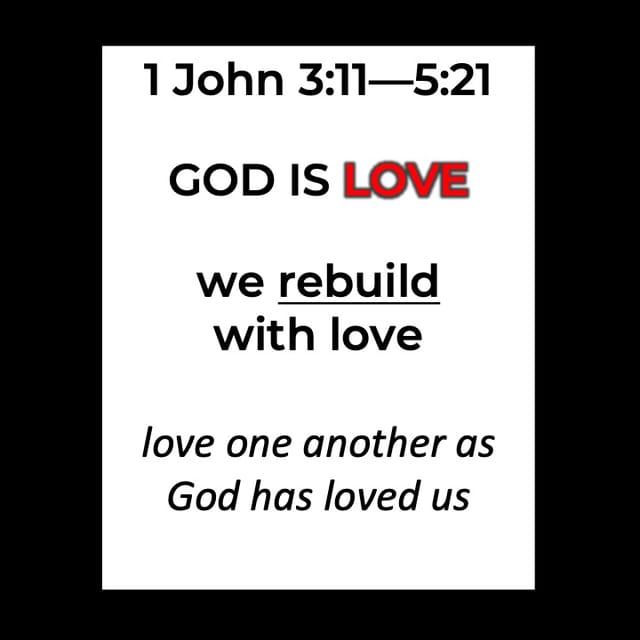 Previewing the Second Half of 1 John
1 John 3:16 NIV
16 This is how we know what love is: Jesus Christ laid down his life for us. And we ought to lay down our lives for our brothers and sisters.
1 John is a book about...

DUTY (obeying God's commands)
DEVOTION (loving God & people)

DOCTRINE (believing truth)
DISCERNMENT (exposing lies)

While the last two themes might not seem as appealing as the first two, they are just as important to the church because they safeguard the heart of the Gospel.
1 John 3:24 NIV
24 The one who keeps God's commands lives in him, and he in them. And this is how we know that he lives in us: We know it by the Spirit he gave us.
1 John 4:1-6 NIV
1 Dear friends, do not believe every spirit, but test the spirits to see whether they are from God, because many false prophets have gone out into the world. 2 This is how you can recognize the Spirit of God: Every spirit that acknowledges that Jesus Christ has come in the flesh is from God, 3 but every spirit that does not acknowledge Jesus is not from God. This is the spirit of the antichrist, which you have heard is coming and even now is already in the world. 4 You, dear children, are from God and have overcome them, because the one who is in you is greater than the one who is in the world. 5 They are from the world and therefore speak from the viewpoint of the world, and the world listens to them. 6 We are from God, and whoever knows God listens to us; but whoever is not from God does not listen to us. This is how we recognize the Spirit of truth and the spirit of falsehood.
Jesus = Fully Human AND Fully Divine

In the Apostle John's day and ours today there are some religious circles (including "Christian" ones) that present a different Jesus that John knew and proclaimed. It's not that these groups deny the existence of Jesus, but they do distort the nature of Jesus. Some affirm his humanity, but deny his divinity. Others affirm his divinity, but deny his humanity.

We need Jesus to be both fully God AND fully man. John was so zealous to guard the truth that "Jesus Christ (the eternal Son of God) has come in the flesh" because our salvation and the gift of eternal life depend on it.
The Value of Focused Faith
Our beliefs matter, but they shouldn't all matter the same. We have should have "die for"; "fight for"; & "fuss over" beliefs that we hold with differing intensity. Otherwise we run the risk of losing focus to our faith and making a big deal about secondary issues that can distract us from what matters most.
Focused Faith (our 3 "die fors" at Hopevale)

The BIBLE is the only WORD of God
JESUS is the only SON of God
His GOSPEL is the only WAY to God

This list is incredibly unoriginal. It isn't something we made up. Nor is it completely unique to us. These are the same foundational beliefs we see John fight for in 1 John. Ever since then, these same "dies fors" have sustained the church of Jesus Christ over the centuries and have been passed down through the generations, so that we can carry on the mission of Jesus in our world today.

1 John series start page
Check out this link for more information about our 1 John series Discussion Groups. We have a new round of 6-week D-Groups starting THIS week. You can also access the electronic version of our 1 John journal here.